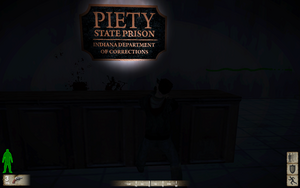 One of the three Forts in Fort Zombie.
It is a two–story building with one tiny basement and partial roof access through the second–floor library on the left. The building itself has entrances on all four sides. It is surrounded by a large boundary wall, which features several sizable breaks. The top of the outer wall can be reached at the corner building towers — additionally, the rear wall can be accessed via a ramp from the roof of the building.
The Prison is listed as the medium–difficulty Fort. It provides no statistical bonuses to either survivors or zombies.
The initial zombies are spread lightly through the building and especially cluster at the main entrance and in the cell blocks.
Tool Box
Location
First floor, right-side tool shop
Base Spot Chance
90%
Chance
Amount
Nails
90%
1 - 2
Spray Paint
90%
1

Clothes Dryer
Location
First floor, right-side laundry room
Base Spot Chance
90%
Chance
Amount
Fire Hose
100%
1 - 2
Spring
90%
1

Cardboard Box
Location
First floor, left-side cafeteria kitchen
Base Spot Chance
80%
Chance
Amount
Pizan Pasta
75%
1
Granola Bars
50%
1

Gas Canisters
Location
First floor, rear garage
Base Spot Chance
45%
Chance
Amount
Gas Cylinder
75%
1 - 2

Medicine Cabinet
Location
Second floor, left-side infirmary
Base Spot Chance
100%
Chance
Amount
Cotton Balls
85%
1 - 2
Ad blocker interference detected!
Wikia is a free-to-use site that makes money from advertising. We have a modified experience for viewers using ad blockers

Wikia is not accessible if you've made further modifications. Remove the custom ad blocker rule(s) and the page will load as expected.